Home Warranty Service
Important! Coverage for Sewer & Water Lines, Visible Mold, Alarm and Low Voltage Lines, changes in Radon Levels, and Termite Treatments can be extended for only $29 per month when you have a home inspection with Home Inspection Professionals-HIP!
We hope you have a wonderful and problem free homeownership experience of course, but the fact is things can and do change over time in your home. Issues like fires and water damage are covered by your homeowners insurance and mechanical failures within your home are covered home warranty policies you may have received at closing.
If you did not get a home warranty at closing and would like to order one:

Sign-up for your Home Warranty today! HERE
There are a few issues that are excluded by homeowner's insurance and home warranties generally that you can get coverage for now for only $29 per month with no contract - you can cancel at any time. We call it the SMART Home Service Plan, and it includes an optional annual home maintenance review as well as coverage for all of the following that are specifically excluded by your homeowner's insurance and home warranty policies:
Underground Sewer and Water Line Failures, between your home and the street.
Visible Mold Growth within your home.
Alarm and Low Voltage wiring throughout your home providing cable, phone, alarm, and internet data.
Changes in Radon Levels- should they ever exceed the EPA recommended levels
Termite and Wood Destroying Insect Treatment for new infestations
All in all, this plan covers up to $5000 in failures in these categories. This coverage can be increased to up to $20,000 in coverage for only $59 per month.
In order to be eligible for this coverage with no gaps, you must enroll within 15 days after completing a home inspection.
After one year in the plan, we will send you a notice automatically that you are eligible for a FREE (and optional) annual home maintenance review with one of our professionals at Home Inspection Professionals-HIP. When you get that email, simply click on the link and we will schedule service with you.
Thanks again and don't forget to let your friends know about Home Inspection Professionals-HIP.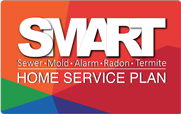 Sign-up for your SMART Service Plan today! HERE
Download Information Brochures